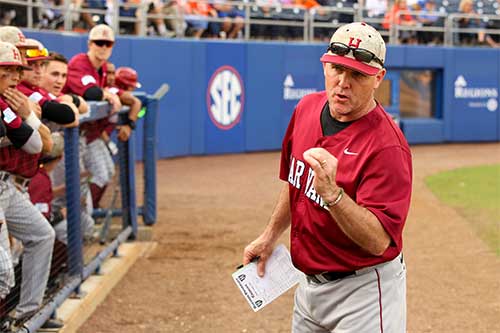 Bill Deckerwas introduced as the Joseph J. O'Donnell '67 Head Coach for Harvard Baseball on September 26, 2012. He will begin his seventh season at the helm of the Crimson in 2019.
The 2018 season was one of the most successful seasons yet, with a 22-20 (.524) overall record and 12-9 (.571) conference record. The season contained the most wins for the Harvard baseball program since 2005 and the most Ivy League wins since 2007, with its best conference finish since 2010. Decker coached to a career-best 22 wins with the Crimson, reuniting with a series sweep after nine years in a three-game win over Princeton.
Harvard won its first Beanpot Championship title since 2014 and fifth in program history, going 3-0 against Massachusetts and recording its first win over Northeastern since 2010. In addition, the Crimson closed out their season with a series win over Dartmouth for the first time in 13 years.
Seven members of Decker's team were awarded All-Ivy recognition in nine separate awards, more than any other team in the conference. The three All-Ivy first team honorees included Ben Skinner, Patrick Robinson and Noah Zavolas (by unanimous selection). Hunter Bigge, Simon Rosenblum-Larson, Matt Rothenberg and Jake Suddleson were all named All-Ivy Second Team.
Zavolas was also named Ivy League Pitcher of the Year after tossing a no-hitter against Yale, the first in 17 years. Zavolas and Rosenblum-Larson were both drafted in the 2018 Major League Baseball Draft as picks for the Seattle Mariners and Tampa Bay Rays, respectively.
Twenty-one players earned ECAC Academic Honors for the season, with the program receiving the NCAA Academic Progress Rate Public Recognition Award for the 13th year. Rothenberg and Devan Peterson were also picks for CoSIDA Academic All-District, making Harvard the only team in District I to have two honorees.
Decker led the 2016 Harvard squad to a 17-24 overall record, including a 9-11 mark in Ivy League play, with an impressive win over Wake Forest. Under his leadership, Nick Gruener, John Fallon, Matt Rothenberg, and Josh Ellis earned All-Ivy League recognition, as the program continued its upwards trend.  
Harvard continued its improvement under Decker in 2015, tallying an 18-24 record in the program's most successful season since 2007. Harvard finished second in the Ivy League Red Rolfe division, and tallied seven wins in conference play. Ethan Ferreira was named to the All-Ivy first team, and Mike Martin and Jake McGuiggan were selected to the second team.
Decker's Crimson also saw improvement in 2014, earning an 11-28 record, including a Baseball Beanpot Championship, Harvard's first since 2005. Three Crimson, Mike Martin, Kyle Larrow and Carlton Bailey, earned All-Ivy League honors under his guidance last season as well.
After taking over in September of 2012, Decker led the Crimson to a 10-31 record in 2013, including a third-place finish in the Ivy League's Red Rolfe Division. The Crimson had three All-Ivy choices in Tanner Anderson, Mike Martin and Brandon Kregel. 
Decker, the 2008 ABCA National Coach of the Year, spent 22 season as head coach of the Trinity College (Conn.) baseball team before coming to Harvard. Trinity's all-time winningest coach, he owned a 529-231 (.696) record while winning five conference championships and advancing to nine NCAA Tournament appearances and winning one national title.
In 2008, Decker led Trinity to a 45-1 mark en route to the school's first-ever NCAA Division III National championship. After finishing the regular season undefeated, the Bantams ran their record streak to 44 games, which is the longest winning-streak in Division III history. The .978 winning percentage set a new NCAA record in any division in any sport. 
On top of being selected as the 2008 ABCA National Coach of the Year, Decker was also selected as the New England Coach of the Year in 1999, 2004, 2008 and 2009 as well as the New England Small College Athletic Conference Coach of the Year in 2000, 2003, 2008 and 2009.
In 2012, Decker led the Bantams to a 34-11 record and a fifth NESCAC Championship title. In 2009, the Bantams won the NESCAC Championship, and the New England Regional Championship to earn a second consecutive bid to the Div. III College World Series. In 2007, Decker's team advanced to NCAA Tournament play for the third time in five years and won four games in the regional.
In 2005, Decker guided Trinity to a 35-9 record and was named the New England Intercollegiate Baseball Association (NEIBA) Coach of the Year. Trinity also won its second NCAA Division III Regional Championship title in three years and made its second trip to the NCAA Division III World Series.
All told, Decker owns 537 wins as a head coach at the collegiate level including one year at Macalester College in 1990. He got his college coaching start in 1989 as an assistant coach at Wesleyan (Conn.) Prior to that, Decker served single years in assistant roles at Deerfield Academy (Mass.) and Phillips Exeter Academy (N.H.) In all four of those stops, Decker also served as a member of the schools' football programs. He also served as a graduate assistant coach in football at his alma mater, Ithaca College (N.Y.)
Decker has been an active member of the New England Intercollegiate Baseball Association as a regional coordinator. In 1997, Decker was a member of the USA Baseball National Trials coaching staff and has made summer trips as part of Major League Baseball International. Eight Trinity players have continued their baseball careers at the professional level in the past seven years, and Jonah Bayliss became the first NESCAC player in 10 years to appear in a major league game in 2006. Decker-coached athletes compete annually in the NCAA-sponsored collegiate leagues each summer.
A 1985 graduate of Ithaca College, Decker received a bachelor's degree in physical education with a minor in business. He also holds a master's degree in physical education with a concentration in coaching, which he received from his alma mater in 1992. Decker's baseball career was cut short due to injury in college but the two-sport star was a team captain and an All-America defensive back for the football team.
Decker and his wife, Nancy, have three children, Kyle, Sarah and Kacey.